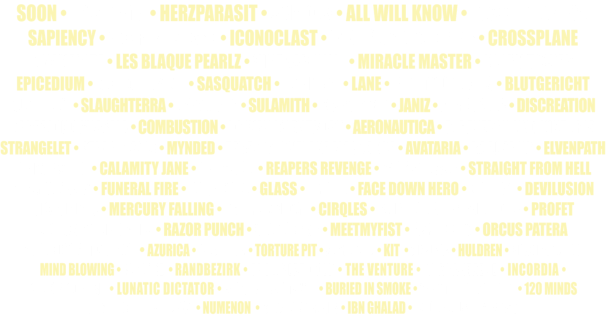 Das Rocken Rock & Metal Festival in Rodgau wird im Bürgerhaus Nieder Roden stattfinden. Vom 28.08.2015 bis zum
30.08.2015 werden hier 96 Bands aus dem Rock und Heavy Metal Bereich auftreten.
Es gibt einen Camping Platz und ein großes Catering Lager im Aussenbereich.
Bisher bestätigte Bands beim Rocken Rock & Metal Festival Rodgau:

SOON, LION TWIN, HERZPARASIT, SARIOLA, ALL WILL KNOW, REVOLUTION EVE, SAPIENCY, SCARLET ANGER, ICONOCLAST, LAST SATANIC DIVINE, CROSSPLANE, SNAKEBITE, LES BLAQUE PEARLZ, VINEGAR HILL  , MIRACLE MASTER, IVORY TOWER, EPICEDIUM, GOD DELUSION, SASQUATCH, HOPELEZZ, LANE, PLENTY OF NAILS, BLUTGERICHT, SÜNDFLUT, SLAUGHTERRA, EYESOLATE, SULAMITH, KRAYENZEIT, JANIZ, ELMSFEUER, DISCREATION, SPREADING MIASMA, COMBUSTION, DRIVEN BY ENTROPY, AERONAUTICA, FOREVER YOUNG VIKTORIA, STRANGELET, ATLAS & AXIS, MYNDED, TEXAS CORNFLAKE MASSACRE, AVATARIA, BAAL ZE UB, ELVENPATH, DRIVERS INC, CALAMITY JANE, GRIMGOD, REAPERS REVENGE, WORST CASE, STRAIGHT FROM HELL, KING LUDWIG, FUNERAL FIRE, ILLUSORIA, GLASS, HYDRA, FACE DOWN HERO, ENTORX, DEVILUSION, DISMINDED, MERCURY FALLING, THORNBRIDGE, CIRQLES, BURIED UNDER MILLIONS, PROFET, CONCEPT INSOMNIA, RAZOR PUNCH, OVERSENSE, MEETMYFIST, PANDEMIC, ORCUS PATERA, FREE KEY BIT CHESS, AZURICA, IN SANITY, TORTURE PIT, ACHEIRUS, KIT , SKELFIR, HULDREN, PRECIPITATION, MIND BLOWING, NO JOKE, RANDBEZIRK, THE GREAT COLD, THE VENTURE, QUARANTAENE, INCORDIA, CHASED CRIME, LUNATIC DICTATOR, MORTAL EXISTENCE, BURIED IN SMOKE, WHAT IF THEY FIGHT, 120 MINDS, THE MONOLITH PROJECT, NUMENON, BLAZING TRAILS, IBN GHALAD, RODGAU JAZZ BIG BAND


Das Festival ist ein großes Rockkonzert in Rodgau mit mehreren Konzertbühnen.
Das Rock Konzert in Hessen Rhein Main Gebiet wird im
August im Bürgerhaus Nieder Roden Rodgau stattfinden. Hinter dem Bürgerhaus ist ein Campingplatz
/ Zeltplatz mit genügend Platz
für hunderte Zelte und wird entsprechend vorbereitet.
Megafun Born Meißner ist der Veranstalter vom Rocken Rock & Metal Festival Rodgau
das ein großes Rockkonzert in Hessen darstellt.

Viele tausende Rockfans werden zum Bürgerhaus Römerstrasse 13 in Nieder Roden
kommen und gemeinsam abrocken. Bands aus dem Rhein Main Gebiet
und Bands aus ganz Deutschland werden sich dort präsentieren und eine
tolle Bühnenshow auf den Konzertbühnen präsentieren.
Im großem Saal Bürgerhaus auf der größten Bühne werden am Tag 39 Bands auftreten.